Food processors
Discover the catalog of products in the robot kitchen category on Modus1923.it!.

Food processors
There are 10 products.
KitchenAid
Cook Processor Silver MedalCook Processor Silver-MedalMultifunction Robot with CookingKitchen Aid, New1001The Cook Processor Artisan, designed to manage all phases ofpreparation of a dish, the Cook...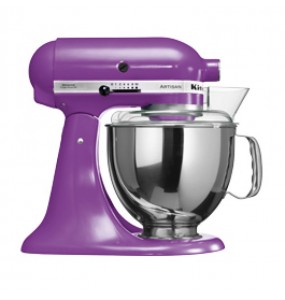 KitchenAid
Standard accessories:Glass bowl of 4.83L,Flat whip,4.83-l bowl with ergonomic handle,HookWire whip,Pouring cover.Optional accessories:Flat whisk with flexible edge,Glass bowl of 4.83L,Accessory for...
KitchenAid
Toaster kitchenaid.
Alessi
FROM ART DECO TO POP ART: EVERYTHING IN A KETTLEMG32The electric version of the famous kettle with the bird, a great success since 1985, represents for Alessi the meeting point between the great...
Alessi
NEW CLASSICISM AND HARMONY IN GIOVANNONI'S TOASTERSG68Kitchen appliances that takes up the minimalist, modernist and elegant approach inaugurated by Stefano Giovannoni with his other home appliance...
Giannini
Smart Touch balance with 1.5 l jug 5 kgSize: 24 x 15.5 16 cm
Giannini
Smart Touch balance with 1.5 l jug 5 kgSize: 24 x 15.5 16 cm
Smeg
Warranty valid for up to 2 years from purchase. Aesthetic Painted aluminium body Zinc alloy base painted with bowl attachment stainless steel Knal lever stainless steel speed selection...
Smeg
Pasta accessory set. Fettuccine accessory - cutlini accessory and puff accessory. Body accessories in chrome steel. Compatible with SMF01/02/03/13.